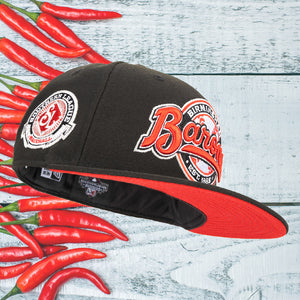 Birmingham Barons 'Extra Spicy' 59Fifty Fitted Hat
Available Sunday June 23, 2023
Prepare for the mercury to skyrocket with the imminent release of the Birmingham Barons' newest headwear piece - the 59Fifty Fitted 'Extra Spicy' Hat. More than just a cap, this statement accessory comes ablaze with a striking blend of black and red, inspired by the fiercest hot peppers.
Bold and potent, the 'Extra Spicy' Hat not only makes a statement but also ignites conversations with its daring design, embodying the spirit of fearlessness akin to the Birmingham Barons.
Brimming with a fusion of tradition and trend, the hat respects the classic 59Fifty silhouette while adding its own fiery flair. As you rock this sizzling hat, you're not just showcasing your audacious fashion sense, but also embracing a tradition that skillfully blends old and new. So, if you're ready to let your style heat up this season with this Scoville-level trend, stay tuned for the release. Brace yourself, because this is going to be one hot drop.
---