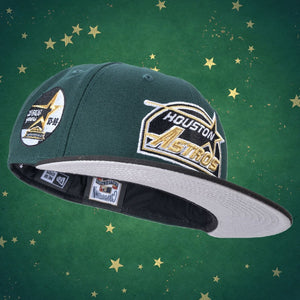 Houston Astros 'Gold Flex' 59Fifty Fitted Hat
Available Sunday June 4th at 7:00 PM EST
Take a step into the world of refined sportswear with the Houston Astros' 59Fifty Fitted 'Gold Flex' hat. This stylish headpiece showcases a stunning play of contrast and color, featuring a rich, dark green crown paired with a sleek black visor.
These elements come together to create an air of sophistication, all while maintaining an athletic vibe that's integral to the 59Fifty design. But the color story doesn't stop there—the hat surprises with a cool grey undervisor, adding a modern touch to its overall look and offering a muted contrast to the bold top colors.
The crowning glory of the 'Gold Flex' hat, however, is the striking metallic gold embroidery. This feature not only catches the eye but also adds a layer of luxury, setting it apart from traditional sports gear. It's a touch that speaks to the attention to detail in the hat's design.
With the 'Gold Flex' hat, you're not just sporting Astros pride—you're doing it with a level of class that's bound to turn heads, whether you're at a game or on the streets.
---