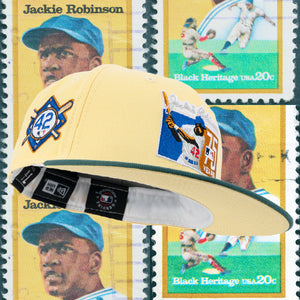 Jackie Robinson 'Heritage' 59Fifty Fitted Hat
Available June 28, 2023
Welcome the newest addition to our 59Fifty collection, the Jackie Robinson 'Heritage' fitted cap. Drawing inspiration from the 1982 Jackie Robinson Black Heritage Stamp, this fitted cap seamlessly marries history with style, serving as a testament to Robinson's game-changing legacy. Fashioned with a soft yellow cotton crown and an identical under visor, the cap mimics the vintage hues of the stamp, while the pine needle green visor injects a bold and modern contrast.
The Jackie Robinson 75-Year Logo shines at the forefront, acknowledging Robinson's groundbreaking role in the sport. Complementing this is the Brooklyn Dodgers side patch, an homage to the team that bore witness to Robinson's historic prowess.
This cap transcends the realm of a mere accessory, evolving into a symbol of bravery, resilience, and societal progress. So, whether you're a sports enthusiast, a streetwear aficionado, or a history buff, make a statement and uphold the legacy of a true trailblazer with this timeless icon.
These are limited edition and they're not going to last. Grab yours Today!
---