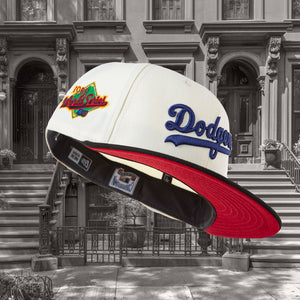 Los Angeles Dodgers 'Mookie' 59Fifty Fitted Hat
Available April 23, 2023 at 7:30 PM EST
The Los Angeles Dodgers "Mookie" 59Fifty fitted hat is the perfect accessory for any Dodgers fan looking to make a statement with their style. Inspired by Spike Lee's character in the classic movie "Do The Right Thing," this hat takes cues from Mookie's iconic wardrobe, featuring a retired Jackie Robinson Dodgers Jersey, bright red shorts, and red and black socks.
Crafted with premium materials, this hat is built to last and perfect for any occasion. The chrome white poly crown is complemented by a black visor and a scarlet red undervisor, creating a bold and striking look that's sure to turn heads. But that's not all – this hat also features a 1988 World Series sidepatch and a black sweatband, adding even more style and detail to this already iconic hat.
One of the standout features of the "Mookie" 59Fifty fitted hat is its attention to detail. From the chrome white poly crown to the scarlet red undervisor and black sweatband, every aspect of this hat has been carefully crafted to create a truly unique and eye-catching look. And with the addition of the 1988 World Series sidepatch, this hat is the perfect way to show your support for the Dodgers and their rich history.
Whether you're a die-hard Dodgers fan or just looking for a stylish accessory to complete your outfit, the Los Angeles Dodgers "Mookie" 59Fifty fitted hat is a must-have. So head over to our online store today and add this iconic hat to your collection! With its bold and striking design, this hat is sure to become a staple in your wardrobe for years to come.
---