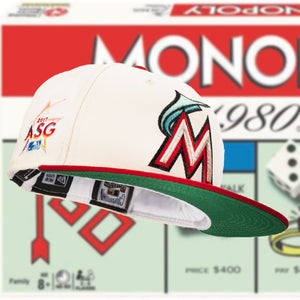 Miami Marlins 'Game Night' 59Fifty Fitted Hat
Available Sunday June 11th at 7:00 PM EST
Immerse yourself in the grandeur of the game with the new 'Game Night' Miami Marlins 59Fifty fitted hat. This limited-edition release isn't just a hat - it's a tribute to tradition, a marriage of sporting pride and nostalgic joy, and a clear testament to creativity in fan gear.
Exuding a vibe that's both playful and chic, it blends the classic Miami Marlins logo with the iconic elements of the beloved Monopoly board game. From the green houses to the chance cards, each detail of the Monopoly game is captured vividly, demonstrating the meticulous craftsmanship of the design.
Perfectly suited for a game night or a day at the Marlins Park, the 'Game Night' hat lets you wear your fandom with a unique twist. Whether you're a die-hard Marlins fan, an ardent Monopoly enthusiast, or simply a collector of eclectic headgear, this cap will infuse a fresh, vibrant energy into your wardrobe.
The hat doesn't just command attention, it tells a story of fun-filled evenings, strategic game moves, and the thrill of sports - a reflection of a lifestyle that embraces both competition and camaraderie. So, as you cheer for your favorite team or make your way towards the board game victory, let the 'Game Night' cap make a stylish statement about your personality.
---