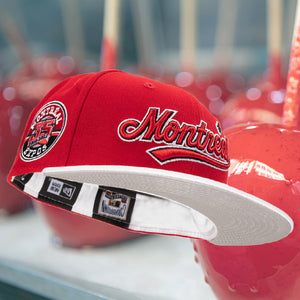 Montreal Expos 'Candy Apple' 59Fifty Fitted Hat
Available Thursday May 11, 2023 at 7:30 PM EST.
Introducing the Montreal Expos 'Candy Apple' 59Fifty fitted, a deliciously stylish hat that pays tribute to one of the most iconic baseball teams in history and their legacy lives on through the memories of fans and collectors alike.
This cap is inspired by the vibrant colors of candy apples, featuring a deep red colorway that is sure to turn heads wherever you go. The bold color is complemented by the iconic Montreal script logo on the front panel, proudly displaying your love for this legendary team.
The Candy Apple Expos cap is more than just a stylish 59Fifty - it's a piece of history. As one of the few remaining pieces of official Expos merchandise, it's a must-have for any fan of the team. Whether you're a die-hard collector or a casual fan, this hat is the perfect way to show your love and support for the Expos.
Wear it to games, around town, or anywhere else you want to show off your team pride. With its comfortable fit and high-quality materials, it's perfect for all-day wear. So why settle for a generic baseball cap when you can own a piece of history with the Montreal Expos 'Candy Apple' 59Fifty fitted? Get yours today and show your love for one of the greatest teams to ever play the game!
---