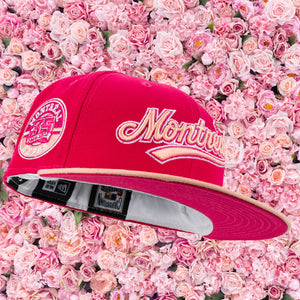 Montreal Expos 'Summer Rose' 59Fifty Fitted Hat
Available Sunday July 9, 2023
In the realm of classic sportswear, the Montreal Expos have carved a name that echoes with both nostalgia and timeless style. This season, we pay tribute to this cherished legacy with our exclusive release - the Montreal Expos "Summer Rose" 59Fifty Fitted Hat.
This special edition piece goes beyond just being a cap; it's a fashion statement that marries the esteemed Expos heritage with an artistically inspired palette. Taking center stage is the vivid rose-colored crown, a design choice that paints a vivid picture of summer gardens in their peak, with roses unfurling their petals under the warm sunlight.
The hat doesn't just stop at the dazzling crown, though. Adding a layer of contrast and depth to the design, the under-visor features a blush sky shade. This choice of color evokes images of tranquil, early morning skies, offering a quiet reprieve before the world awakens. It's an echo of those peaceful moments of solitude at dawn when the day is fresh with possibilities.
The "Summer Rose" is more than a hat - it's a reflection of the wearer's love for the game, a nod to the unforgettable era of the Expos, and a symbol of personal style that stands out in a crowd. This combination of classic sports heritage with a refreshing, naturally inspired color palette makes the "Summer Rose" 59Fifty Fitted Hat a must-have addition to any fan or fashion enthusiast's collection.
---