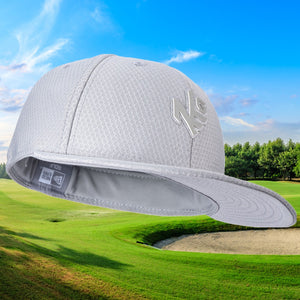 New Era 'Golf Pro' 59Fifty Fitted Hat
Available May 17, 2023 at 7:00 PM EST.
One glance at the New Era 'Golf Pro' 59Fifty fitted hat and you'll be captivated by the now-defunct logo adorning its crown. This hat seamlessly blends the timeless 59Fifty design with modern functionality, creating a statement piece that sets you apart on the golf course.
Golfing under the scorching sun can be challenging, but with the Diamond Tech moisture-wicking fabric used in this hat, you can bid farewell to discomfort. This advanced fabric ensures a cool and dry fit, wicking away moisture to keep you fresh and focused on your game. It's the ultimate performance-enhancing feature that takes your golf experience to new heights.
Golf is a game of precision, and every distraction can cost you a stroke. That's why the New Era Cap 59Fifty fitted hat is meticulously crafted for your comfort. The snug fit and superior materials ensure a secure yet breathable experience, allowing you to stay in the zone throughout your round. It's time to conquer the course with utmost confidence and comfort.
Beyond its performance-driven features, this hat is a fashion statement in itself. The fusion of the now-defunct New Era Golf logo with the timeless design elements creates a head-turning accessory that adds an instant touch of sophistication to your golf attire. Whether you're playing with friends or participating in a tournament, you'll stand out for all the right reasons.
Gear up and experience the ultimate blend of performance and sophistication today!
---