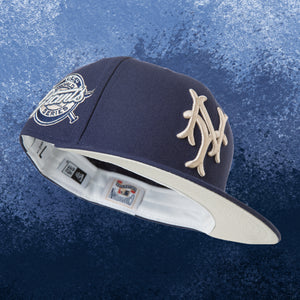 New York Giants 'Reserve' 59Fifty Fitted Hat
Available Sunday July 23, 2023
Welcome to another spectacular drop, fitted aficionados! Today, we're diving into the world of sports-inspired fashion with a remarkable piece from AnthemShop — the New York Giants 1954 World Series "Reserve" fitted cap. Exclusively crafted by AnthemShop for those with a discerning taste in headwear, this latest entry in our New Era 59Fifty collection is one that gets even better as it gracefully ages, much like a fine wine.
Intricately designed, this New York Giants tribute boasts a tastefully muted light navy crown which is offset by the impeccable tan embroidery that calls to mind the grandeur of the Giants' legendary 1954 World Series run. But it's not just about the exterior — peep under the brim and you'll find a cotton stone undervisor, a thoughtful and stylish touch that rounds off the design. This is not just a hat, it's a testament to timeless style and a tribute to one of the most significant moments in baseball history.
Whether you're a die-hard Giants fan, an avid cap collector, or simply a streetwear enthusiast looking to add a unique piece to your collection, the "Reserve" is a head-turning accessory that's not to be missed. Stay ready, hypebeasts, and secure this drop before it's gone. Just remember, like any timeless piece, the New York Giants 1954 World Series "Reserve" isn't merely worn — it's experienced.
---