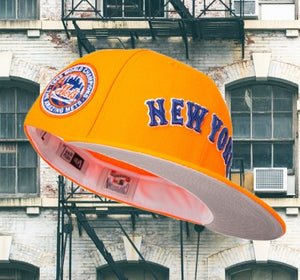 New York Mets 'Rap Icons' 59Fifty Fitted Hat
Available May 14, 2023 at 7:30 PM EST
When it comes to influential figures in the world of rap, Nas and his groundbreaking album 'Stilmatic' hold a special place. We are thrilled to introduce our latest creation, the 'Rap Icons' cap, a tribute to Nas and his timeless impact on hip-hop culture. This captivating 59Fifty cap effortlessly captures the essence and inspiration from the iconic 'Stilmatic' cover art.  
Nas' 'Stilmatic' is hailed as a seminal album that reshaped the landscape of hip-hop. Our 'Rap Icons' cap pays homage to this influential masterpiece, allowing you to showcase your appreciation for Nas' lyrical genius and contribution to the genre. By wearing this cap, you proudly display your love for hip-hop culture and honor the legacy of Nas and 'Stilmatic.'
Crafted with utmost care and attention to detail, the 'Rap Icons' cap offers more than just a stylish exterior. Constructed with high-quality materials, it ensures durability and longevity, allowing you to enjoy it for years to come. The comfortable fit ensures that you can wear it all day long without compromising on style or comfort.
---