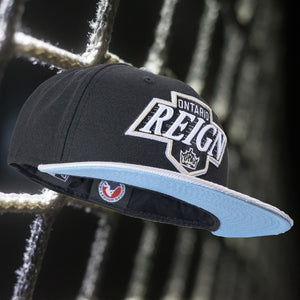 Ontario Reign 'Blades of Steel' 59Fifty Fitted Hat
Available Sunday May 28th at 7:00 PM EST
Hockey is more than just a sport; it's a way of life. For passionate hockey fans, the Ontario Reign 'Blades of Steel' 59Fifty Fitted Hat goes beyond being a simple cap—it's a symbol of the game's intensity and exhilaration.
Featuring a metallic silver visor and intricate embroidery, this hat pays homage to the sleek and powerful blades that propel hockey skaters across the ice. Join us as we explore the unique features of this iconic headwear, perfect for showcasing your love for the sport.
The Ontario Reign 'Blades of Steel' 59Fifty not merely an hat; it's a statement that encapsulates the grace and athleticism displayed by hockey players on the ice. The metallic silver visor mimics the shining steel blades that glide effortlessly, evoking a sense of raw power and skill.
Whether you're heading to a game or simply want to infuse your daily style with a touch of hockey spirit, this hat will elevate your look. Embrace the hockey spirit, and let your passion shine through this iconic 59Fifty.
---