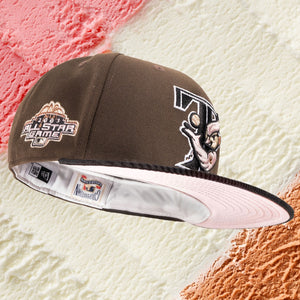 Toronto Blue Jays 'Gelato' 59Fifty Fitted Hat
Available May 17, 2023 at 7:00 PM EST
Hey there, 59Fifty enthusiasts and Blue Jays fans! We've got a treat for you today that's as sweet as Neapolitan ice cream on a hot summer day. Get ready to indulge in the Toronto Blue Jays 'Gelato' 59Fifty fitted hat that's all about those delicious ice cream vibes!
Picture this: a rich and decadent crown in a deep, cocoa brown shade that's reminiscent of your favorite chocolate scoop. And guess what? The fun doesn't stop there! We've added a playful twist with a soft pink undervisor that'll make you feel like you're biting into a strawberry swirl.
But wait, there's more! Those fine details that take this hat to the next level? Well, they come in the form of beautiful white embroidery accents. These little touches gracefully bring out the iconic team logo, making it pop like never before.
We're not just talking about any old hat here; we're talking about a meticulously crafted masterpiece that seamlessly blends nostalgia and modern style. Whether you're heading to the ballpark or simply want to add a dash of sporty sophistication to your everyday outfits, this fitted hat is an absolute must-have.
---